This course is held on 2 consecutive Saturdays: August 7th & August 14th from 10am-2pm
This course is held on 2 consecutive Saturdays, August 7th & 14th from 10am-2pm
Technical Level: Beginner
Many photographers are finding Adobe Lightroom Classic to be the perfect tool for organizing, processing and enhancing images. This beginner Lightroom course shows you step-by-step how to take control of your digital photography workflow. Discover the most efficient method for downloading images into Lightroom and organizing them. Quickly import and manage your photo collection in a library that makes finding and editing your photos easy. Learn the best way to make global and tonal corrections to your images and take advantage of new world-class noise reduction capabilities. Convert images to black and white, as well as add tonal overlays, and film grain textures. This class takes place in our state of the art computer lab where each student is assigned a 23-inch iMac. You do not need to bring a laptop.
Topics Covered:
Library module: Setting Up Lightroom: The Right Way from the Start
Importing Images: From card and hard drive
Organizing folders, creating new folders without losing the Lightroom link.
Sorting and rating
Creating collections for specific projects.
The Develop module: Editing Your RAW, TIFF and JPEG Images like a Pro
Using Lightroom for Global Adjustments: Exposure, curves, split tones, sharpening and noise reduction
Understanding the dynamic range of the histogram
Setting Camera and lens profiles
Export options: Creating presets for specific jobs, using the emailing feature within Lightroom or using Publish Services.
What to bring:
About 50-100 images on a flash drive or hard drive.  Best if the images were shot in the RAW format.  Several images from the same shoot will be ideal for synchronization. Jpegs, tiffs, or psd are okay. If you don't have images I will provide them for you. Place all images in folders. This class takes place in our state-of-the-art computer lab where each student is assigned an iMac 21.5″ 3.6GHZ. You don't need to bring a laptop.*NOTE: This is a Lightroom Classic course, (same as older Lightroom version 5-6/CC). NOT Cloud Lightroom.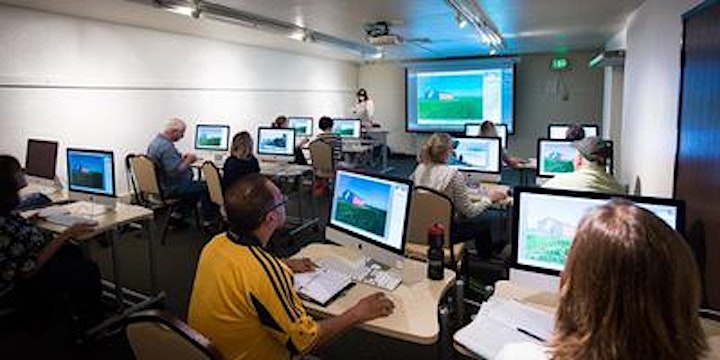 By registering for this workshop, you are agreeing to our Terms and Conditions.  Click here to view our Terms and Conditions.  
In accordance with state and local public health organizations, Samy's Photo School is following all COVID-19 related protocols. Please do not attend this class if you are experiencing any symptoms related to COVID-19 including fever of 100.4 or higher, cough, shortness of breath, loss of sense of taste/smell, fatigue, diarrhea, muscle aches and headache.