The Sony Alpha Experience: Classes; Photo Walks; Trade-In Deals; Live Model Shoots; Sony Loaner Gear & SO MUCH MORE.
This is a free event but registration is required.
CLASS SCHEDULE – Registration is required to attend all classes and photo walks
"Wide Angle Portraits and Landscapes" Time: 9:30-10:30am Instructor: Scott Robert Lim
Class Description: Learn how to create stunning cinematic portraits and landscapes with a wide-angle lens. Capture images that tell a complete story and create a variety of wide view perspectives. Wide angle compositions and depth of field techniques will also be covered. See example images using a variety lens for both crop sensor and full frame cameras. Image examples using the following lenses: 12-24mm, 16-35mm, 24mm, 20mm, 35mm, 24-70, 10-18mm, 11mm. This class will be helpful for all travel and on location portrait photographer.
———————————————————————————————————-
"How To Balance Flash with Ambient Light for Portraits" Time: 12:00-1:00pm Instructor: Jake Collins
Class Description: Balancing flash and ambient light can be challenging. During this presentation, Jake will walk you through his process on Achieving a well-balanced portrait. He will cover how to find your ambient exposure and explain how to make your background lighter or darker based on your personal preference. Next, Jake will explain how adding a small amount of flash will give you a more natural balanced look. Whereas, if you add a lot of flash, it will give you a more dramatic image. It's all about finding your ideal balance and creating your own personal look. Jake is a professional photographer, educator and product specialist for Westcott.
———————————————————————————————————-
"Seeing Through the Noise" Time: 1:00-2:00pm Instructor: Hopper Stone, SMPSP
Class Description: Have you ever wondered where all of those behind-the-scenes photos from your favorite movies and tv shows come from? Every production has an on-set photographer (also called the unit still photographer) whose sole responsibility is to take photos which capture the essence of the production (both what goes on in front of and behind the camera).
In this presentation, Hopper will take you through his journey from being a photojournalist covering such stories as the famine in Somalia, war in Yugoslavia and the aftermath of the fall of the Soviet Union to being the onset photographer for such productions as "Modern Family", "Hidden Figures", "Captain Phillips" and "Ghostbusters" (2016).
Hopper says: "I'm not an artist. I'm a storyteller. My job is lay low, be quiet and just be amongst all the chaos going on in front of me. Through all of that, I need to filter out what isn't necessary and include what is necessary to tell the story of what's going on. It's like diet photojournalism. I shoot the story, as I see it, of the film being made in front of me. This is what I called 'Seeing through the noise'". Hopper is a Sony Pro and current President of the Society of Motion Picture Still Photographers. A member of the International Cinematographers Guild since 2000, he was awarded the prestigious Publicists Guild Award for Achievement in Television Unit Still Photography in 2012.
*NOTE: There will be no photography or video allowed at this event due to copyright issues.
———————————————————————————————————–
"Wildlife Photography Tips for Stunning Results" Time: 2:30-3:30pm Instructor: Alex Phan – Wildlife Photographer
Class Description: Do you see yourself with a camera capturing animals in their natural environment? Alex Phan will teach you what it takes to be a great wildlife photographer, how to capture wildlife in their natural environment where you may only have a split second to do so. How to have sharp images for your Facebook post as well as tips and tricks on maximizing the potential of your photographic ability and equipment. Alex will also discuss the importance of Wildlife Ethics.
———————————————————————————————————–
"Expanding the possibility of Aerial Video and Photography Production " Time: 3:30-4:40pm Instructor: Moises B. De La Torre – Sony Airpeak Engineer
CLASS DESCRIPTION: The commercial drone, Airpeak S1 is the world's smallest drone able to be equipped with a full frame mirrorless interchangeable-lens Alpha camera, enabling dynamic and precise flight with high agility by using a proprietary motor, propeller, control system and sensing technology, and supporting the creative expression of its users to the fullest. Join the Sony Airpeak Team to learn more about the creative powers of the Airpeak S1 Drone.
———————————————————————————————————–
"How to Capture a Cinematic Portrait Story" Time: 5:00-6:00pm Instructor: Scott Robert Lim Class
Class Description: Learn how to direct and create a beautiful cinematic portrait story. Scott will discuss the importance of creating a balance of photojournalistic and portrait images, blended with simple lighting techniques and post editing, that will create wedding and portrait imagery at an entirely new level. Learn how to choose and create the correct images to maximize impact which is a key to maintaining a successful portrait and wedding photography business. Earn top dollar by creating cinematic stories that tell a well-rounded story.
———————————————————————————————————–
PHOTO WALK SCHEDULE
Photo Walk #1 with Scott Robert Lim at 12pm – 1pm:
Join Sony Artisan Scott Robert Lim on a photo walk around Los Angeles. This will be a hands-on learning experience, so make sure to BRING YOUR CAMERA!
Photo Walk #2 with Jake Collins at 3:30pm-4:15pm
Understanding Off Camera Lighting: Portrait on Location Join Jake Collins from Westcott on a photo walk around West Hollywood. During the photo walk Jake will demonstrate outdoor lighting basics and how to balance an off-camera flash with ambient light. This will be a hands-on learning experience, so make sure to BRING YOUR CAMERA!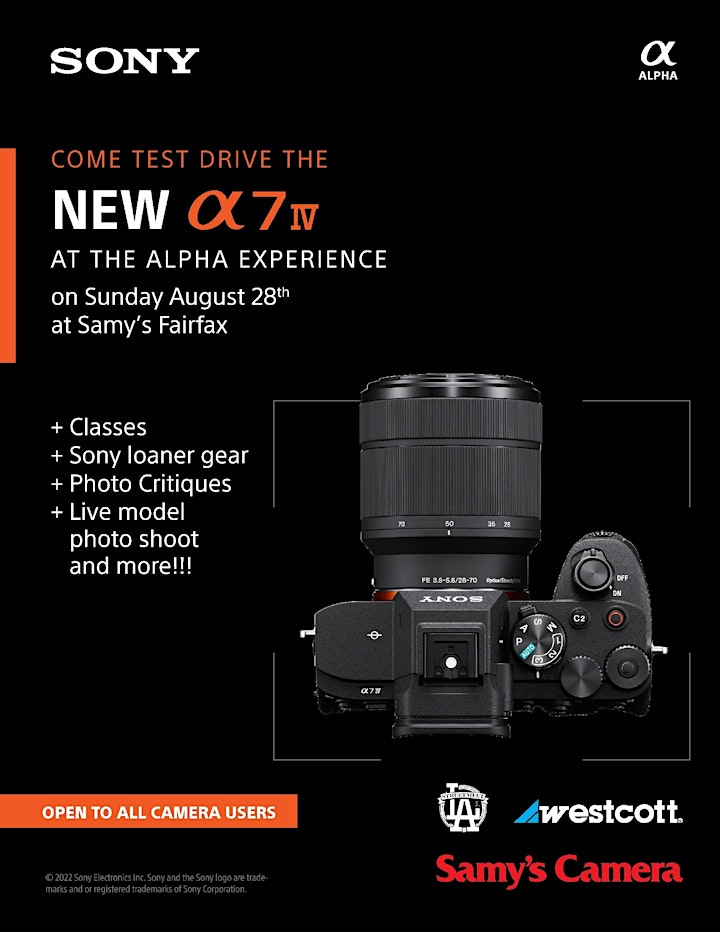 There will be no onsite parking available. We encourage you to take ride share options or public transportation. See confirmation email for nearby parking lots information.
In accordance with state and local public health organizations, Samy's Photo School is following all COVID-19 related protocols. Please do not attend this class if you have experienced any symptoms related to COVID-19 over the past 24 hours including fever of 100.4 or higher, cough, shortness of breath, loss of sense of taste/smell, fatigue, diarrhea, muscle aches and headache.
By registering for this workshop, you agree to our Terms and Conditions. Click here to view our Terms and Conditions.