Sony BE ALPHA Days: Classes; Photo Walks; Studio Sessions; Live Model Shoots; Trade-ins; Sensor Cleanings; Sony Demo Gear & SO MUCH MORE.
Join Sony at Samy's Camera in Los Angeles for this 2 Day Event, Saturday September 30th and Sunday October 1st.
***Just Added! Moses Sparks teaching Wildlife Photography on Saturday September 30th 12:30pm-1:30pm***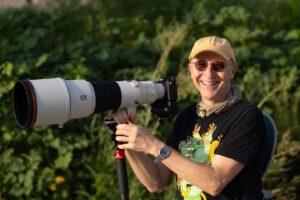 Classes are free but registration is required. Studio Sessions and Photo Walks are $15 each. Sign up quick before they sell out!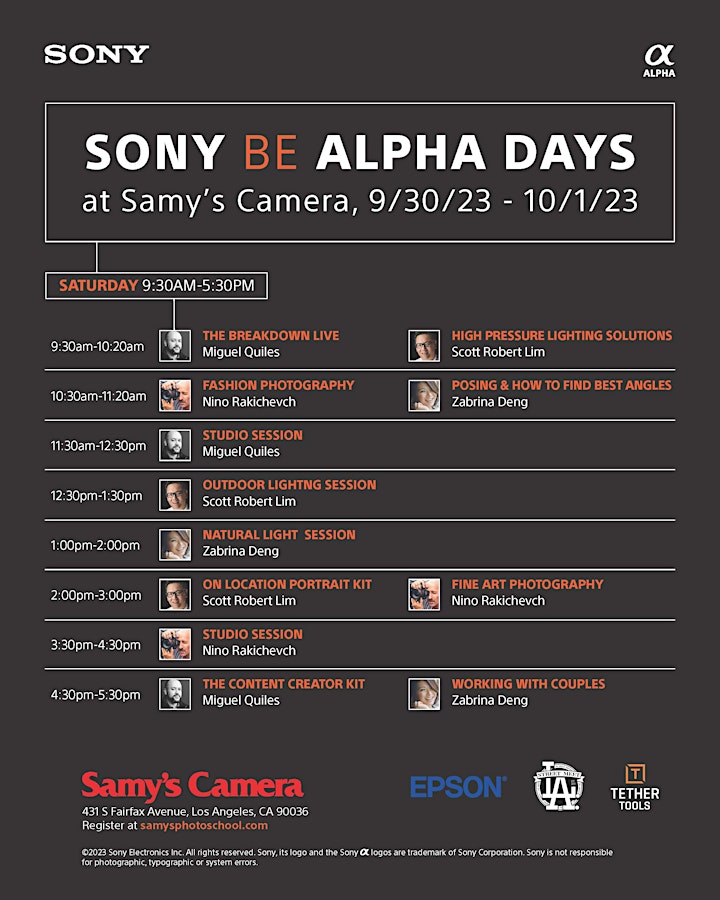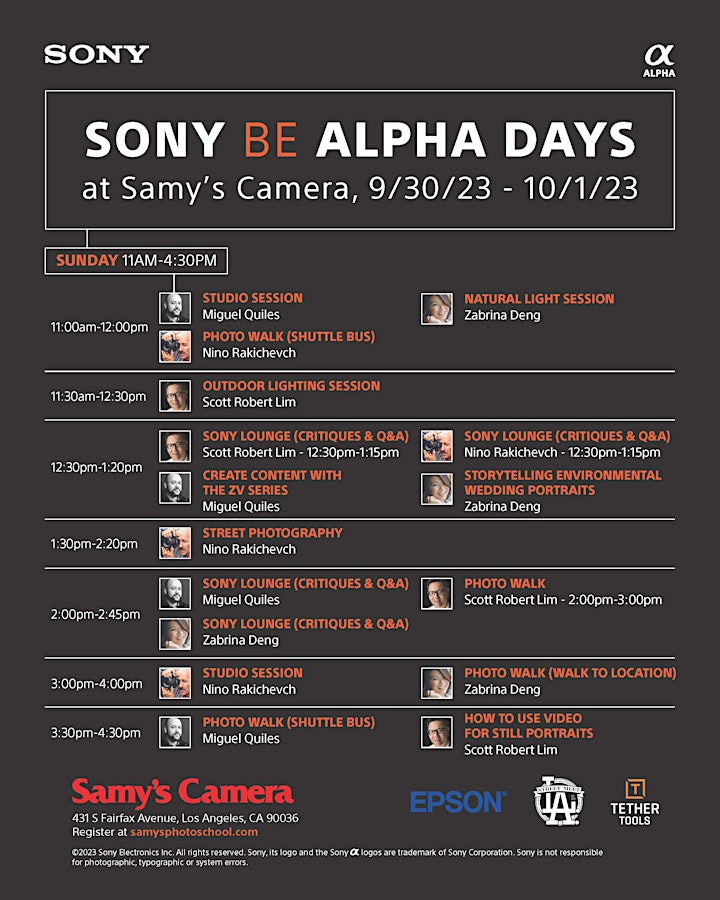 INSTRUCTOR BIOS:
Zabrina Deng
From Paris to Shanghai, Zabrina has travelled the world as a wedding and engagement photographer. As a WPPI Master Photographer and processor for over 60 international award-winning photos, she has accumulated six first place winner and two International Image of the Year awards from WPPI since 2011. Zabrina was named one of the Top 50 World's Best Destination Wedding photographers from Junebug Weddings and one of the 30 Rising Stars by Rangefinder Magazine. Her work has also been published in International Master Photographer, Vanity Fair (USA), Grace Ormonde Wedding Style, Town & Country (Thailand), Cosmopolitan Bride (China), ELLE (Hong Kong), Stuff Magazine (UK) and Vogue Italia's PhotoVogue. Zabrina also photographed the Grammy Award winning R&B band All-4-One for their 20th anniversary album cover using a Sony mirrorless camera. Besides her shooting assignments, Zabrina is also a popular speaker for major photographic conferences across America & Asia, training professional photographers on how to take their craft to the next level.
Scott Robert Lim
Scott Robert Lim is a certified master educator and has over 70 international awards to his name, including top Ten Most Influential, Kodak Award, World's Top Wedding Photographers and has been a judge at many international photography competitions. His work has been published and viewed by thousands all over the world and he is a popular speaker on Creative Live. For the last decade, Scott has dedicated his career to developing world class photographers. He loves teaching photographers of all levels. He has an energetic and charismatic speaking style and is an industry leader in photography education.
Miguel Quiles
Miguel is a beauty & portrait photographer currently residing in Orlando, Florida. Starting his photography business in 2012, Miguel has traveled the world photographing interesting faces as well as teaching photography at conferences like WPPI, Photo Plus, Shutterfest, and many more. He's appeared on Creative Live, Adorama TV, and currently releases videos weekly on his YouTube channel. Miguel has been recognized as a Sony Artisan Of Imagery, as well as a Profoto Legend Of Light.
Nino Rakichevch
After graduating from Brooks Institute with BA in Advertising Photography, Nino launched his career in Fashion and Advertising. He worked on numerous national and international campaigns for clients such as B.U.M Equipment, Big Dog Sportswear, Territory Ahead, Motorola, Giati Designs, Polero, Silverhorn Jewelry, Brian & Sons, Transoft, Only Hearts Club, Montecito Bank and Trust, Holz Kontour, to name a few. Nino has won over 40 awards worldwide for his photographic work and is now a member of the Serbian National Artist Elite known as "ULUPUDS." In addition to being a full-time photographer, Nino spent nearly 15 years teaching fashion photography and portraiture at the prestigious Brooks Institute of Photography. In 2014, he achieved further recognition when Sony selected him as a member of the Sony Artisans of Imagery.
Moses Sparks
Samy's Camera is pleased to welcome Moses Sparks for this lecture where he will present wildlife images he has taken on various exotic excursions and discuss how the images were made; the gear used; why the settings were chosen; specific challenges with lighting, habitat, behavior and more. Moses will talk about what accessories can enhance the results including tripods, monopods and flash.  Moses recently joined a project team that included members of the National Park Service in an effort to photograph some of Hawaii's most endangered birds, the goal being to raise awareness of their plight, and funds to help save them.
There will be no onsite parking available. We encourage you to take ride share options or public transportation. See confirmation email for nearby parking lots information.
No Refunds will be given for any tickets purchased. All tickets are Final Sale.
By registering for this event workshop, you agree to our Terms and Conditions. Click here to view our Terms and Conditions.