Samy's is pleased to host this NX Studio class in which Vincent Versace will teach you how one program does it all!
In this workshop, Vincent Versace, the person who has used Nikon Capture software NX Studio longer than anyone else in the world, will take you through a soup to nuts, start to finish, work flow with NX Studio.
NX Studio is a comprehensive image-processing suite designed for viewing, processing and editing images captured with Nikon digital cameras. NX Studio integrates the image viewing features of ViewNX-i and processing/editing features of Capture NX-D into one piece of software, compatible with both Mac and Windows-based PC computers.
Regardless who's camera you shoot with no one understands the file that has been captured better that manufacture of the camera. In Nikon's case Nikon makes the glass, grids the glass and coats the glass that is in every Nikkor lens. Nikon designs its own sensor based on the knowledge of making the glass, coating and lens. That sensor is then manufactured on machines called "steppers" that Nikon manufactures. (Nikon is the industry leader in laser lithography)
If you want the best possible file, you need to use the raw processor made by the designers of the sensor and lens you are shooting with. Vincent Versace will guide you through this journey!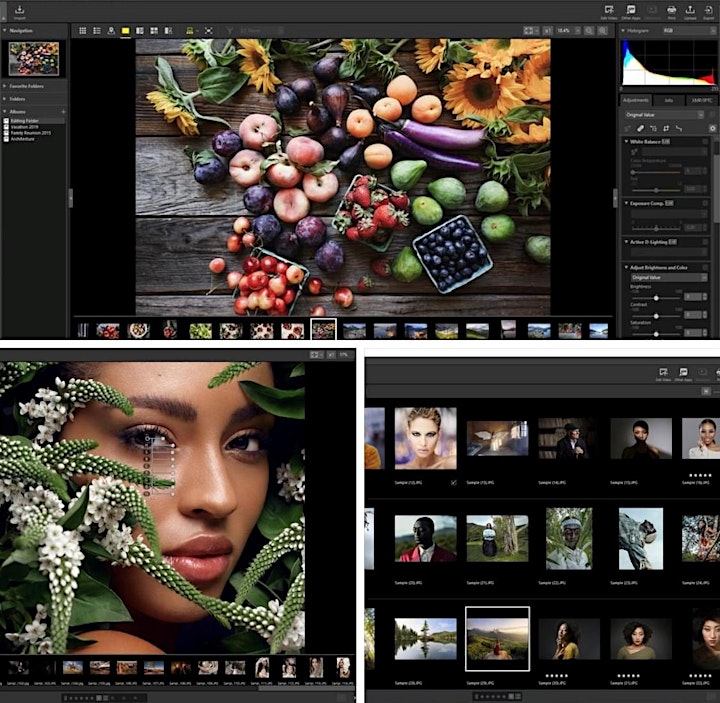 Instructor Bio:
Nikon Ambassador Vincent Versace is an internationally recognized pioneer in the art and science of digital photography. His passion for natural light photography is manifest not only in his work but also through his role as a creative and technical leader, contributing to innovative breakthroughs across the entire digital image value chain. Vincent's work has been highlighted in American Photo, Popular Photography, The New York Times, Shutterbug, Outdoor Photographer, Pro Digital Imaging, PDN, What Digital Camera, Petersen's Photographic, PC Camera, Studio Photography & Design, Professional Photographer, Digital Imaging and many more. Vincent was the original host of the Epson Print Academy and is a member of the Epson Stylus Pros. He is also a Nikon Legend Behind the Lens, an Xrite Colorotti, Lexar Elite Photographer, Team NiK Elite Photographer, an American Photo Magazine Mentor Trek and Master Class instructor and a member of the National Association of Photoshop Professionals Instructor Dream Team. He teaches regularly at Photoshop World, the FBI, US Navy Combat Camera, US Coast Guard, Maine Media Workshops and Palm Beach Photographic Workshops.