In this live online class, students will be encouraged to find their creative vision as they learn the basics of photography.
Do you want to create images that stand out?   In this 5 week workshop, students will learn to master the basics of photography in live lectures, live peer reviews & photo critiques, hands-on shooting and one on one tutorials.  Topics covered will include working in manual mode; coordinating shutter speed, aperture, and ISO; reading and using the light meter, using different metering and focusing modes, using RAW files and basic post-processing techniques to create photographs that bring campers vision to life.
Instructor Anabel DFlux will lead live sessions once a week for 5 weeks. Class will meet on Zoom on March 3rd, 10th, 17th, 24th & 31st from 4pm-5:30pm Pacific Time.
Students will have time to put what they learned into practice in between class sessions.  Hands-on shooting will encourage students to find their own creative vision through a range of topics including portraiture, still life, scenery and fashion. Sessions will include photo reviews and critiques. 
MEET THE INSTRUCTOR:
Anabel DFlux. From canine sports to exotic animals, to some of the biggest musicians in the world – Anabel's work doesn't fall into any specific niche. She believes there are no limits to what you can create, and to photograph everything that gives you that spark of inspiration. Deliquesce-Flux Photography began as a canine portrait service, servicing pet owners in the Los Angeles area at local dog parks and community events. She then swiftly moved into the marvelous world of dog sport photography, going on to currently receive a position photographing for three agility clubs, one scent sport club, and one barn hunt organization. Anabel's work has been featured and used by the American Kennel Club and the United States Dog Agility Association. Anabel has had the honor of photographing both national and international canine champions, as well as their litters. Anabel DFlux loves to give back to the community, and can frequently be seen donating photography sessions and creating visual content for organizations such as CLEAR Canine Cancer & Lymphoma, East Valley Animal Shelter, Adopt the Arts Foundation, multiple wolf conservation centers, and the Judith A Bassett Canine Conservation & Education Center.
Anabel had received an Associate's Degree in Graphic Design and Visual Communications and a Bachelor's in Business Marketing with a focus on branding and content marketing.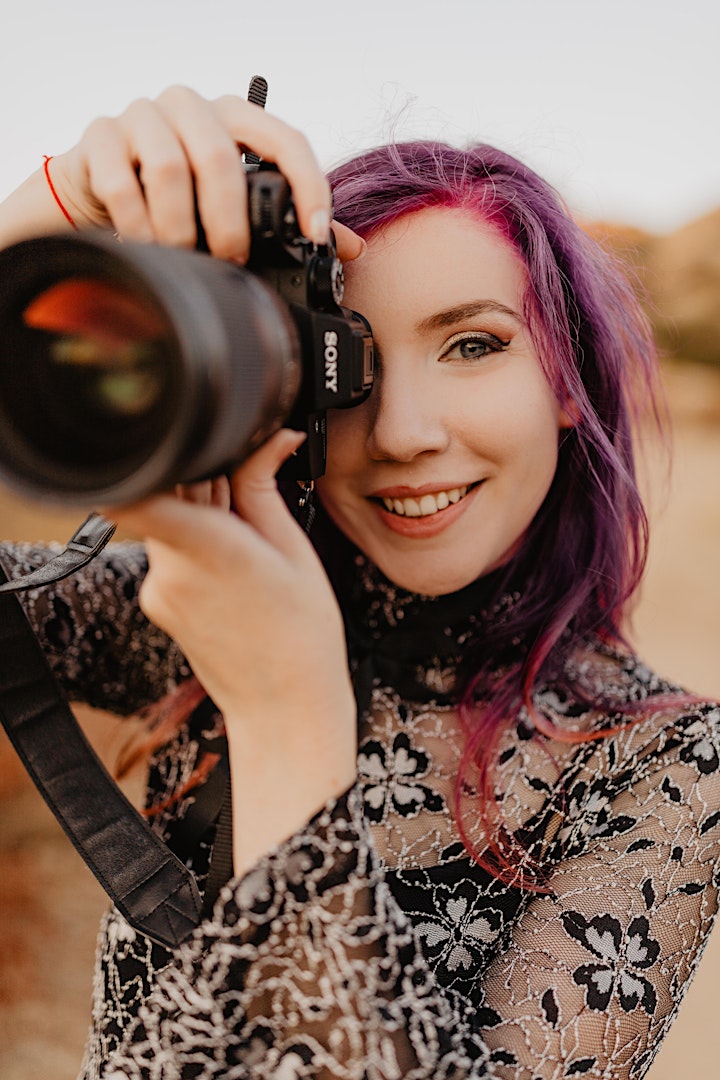 DATES & OTHER FAQS
Dates: This five week course is offered on: March 3rd, 10th, 17th, 24th & 31st from 4pm-5:30pm Pacific Time
Ages/Grades: 6th graders through 12th graders are eligible to enroll in this workshop.
Format: This course is taught live on Zoom and is available to anyone with access to a device with internet-access, microphone and camera (most models of computers and tablets). Upon registration, an email with information on how log-on and participate in this course will be sent.
Tuition: $175/week
Required Gear: Participants will need a mirrorless or DSLR camera that can be set into manual mode and a memory card.
Samy's Camera is offering discounts to students on a variety of gear including suggested gear packages. For questions on gear, please contact the photo school at 323-456-4564 for more information.
Maximum of 10 students.