Bodies in Motion: The Nutcracker Ballet with George Simian
December 8, 2019 @ 12:00 pm

-

6:00 pm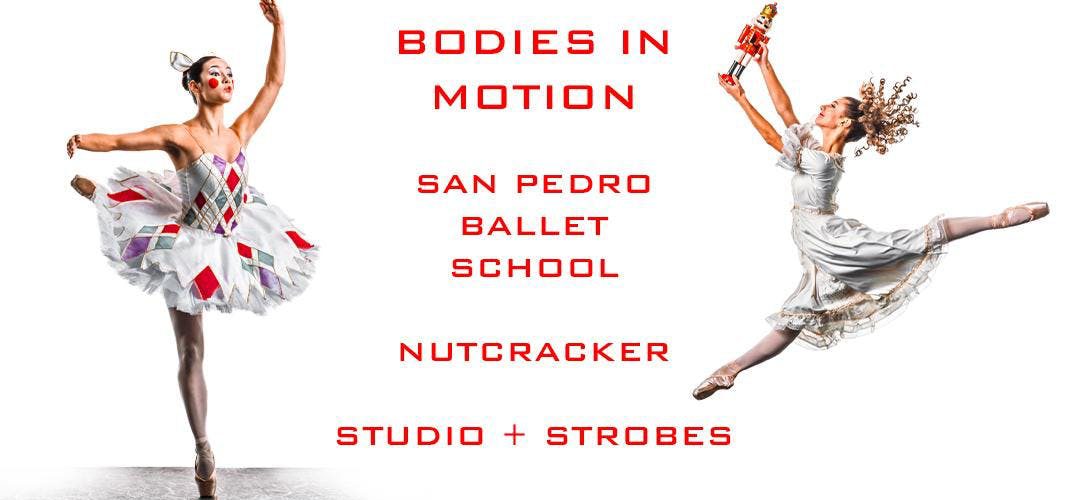 Ticket Registration
This workshop will teach you to capture the decisive moment in ballet, when the gesture and body shape are at their peak, and freeze it with strobe lighting!   We will take you to the legendary dance studio in San Pedro where Misty Copeland was trained, and provide the dancers, the strobe lights, the translucent backdrop, and training in capturing peak moments.

Light is the most important element in creating unforgettable images – and in ballet, light can define the line of the body – the leading goal for the dancer and choreographer!

These images were created with the very dancers, in the very studio, where you will shoot! Being December, all ballet companies will be performing their productions of Nutcracker – so we will have the dancers in the iconic costumes.
 
Only 12 photographers will get to shoot, in 3 teams of 4, using professional Profoto studio-strobe lighting (from Samy's Camera Rentals) to make such striking and iconic images of ballet! Just grab your camera (with a medium-long focal length lens or zoom), charged batteries and formatted memory cards, and comfortable clothes for laying on the floor. Bring your interest in dance and movement – as well as some experience in following fast movement with your camera, locking focus, and responding to the peak moment of the action! Drinks and light snacks will be supplied.
*Please note, the dancers/models are under the age of 18 however they they all have parental permission to perform for this workshop. A week after the workshop, everyone will submit their best dozen images, to share with the dancers, and to create a class web gallery!
Instructor Bio:
George is an ex-East-Coast-based advertising photographer, with over 30 years' experience of providing services to Corporate and Editorial clients. Projects have included providing photography for annual reports, advertising and marketing materials, and magazine features shot on locations around the world. A life-long advocate for photographers' rights, he has served on both the national and the LA board of directors of the American Photographic Artists and currently leads the Los Angeles Digital Imaging Group. George is also a photography educator who has taught at UCLA Extension (2007 Instructor of the Year), Samy's Camera, and one-on-one. Every summer George leads travel photography workshops in Bali, Indonesia. In August 2011 George was recognized as one of the 13 Best Workshop Instructors, nationwide, by PDN Magazine, the Bible of the commercial photography industry. In July 2018 Digital Photo Pro Magazine profiled him and his specialized lighting of dancers and acrobats, in a feature article that can be read here (https://www.digitalphotopro.com/profiles/the-art-of-movement)
*In order to keep the cost of this workshop low, including no extra fee or charge for models, students are asked to share their photos with the models, actors and dancers after the workshop is over.  Sharing your photos is a condition of your permission to post the images.
By registering for this workshop, you agree to our Terms and Conditions.  Click here to view our Terms and Conditions.