Bodies in Motion: Stroboscopic Capture with George Simian
May 16 @ 5:00 pm

-

11:00 pm

|

$249.00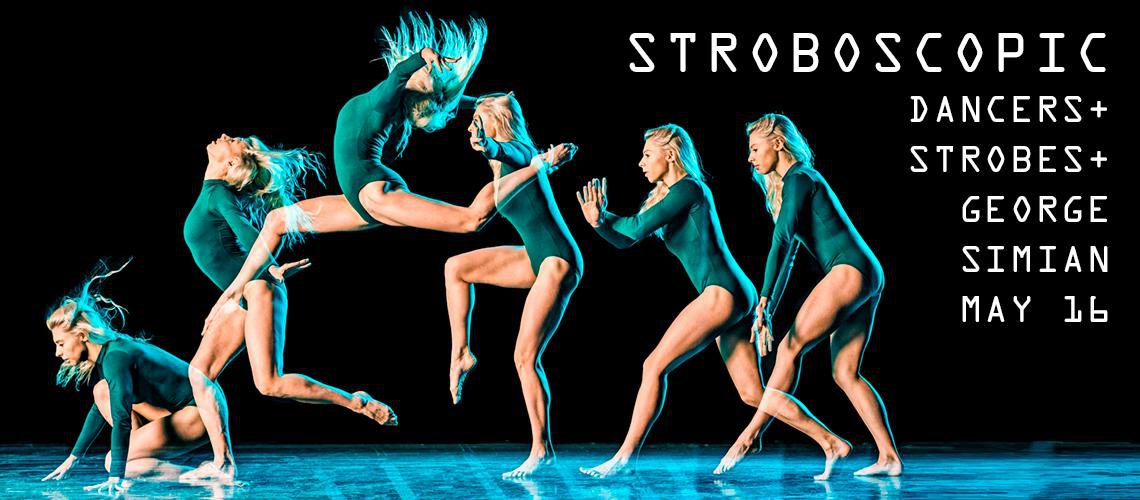 Ticket Registration
Depicting subjects in motion has fascinated photographers since the invention of photography. In this workshop we will photograph dancers with the multiple-exposure technique known as STROBOSCOPIC LIGHTING, to create extraordinary images right in camera!
The concept is to capture several overlapping images of the subject in one frame, depicting their entire movement in time and in space, over the duration of the exposure. This is accomplished with professional strobe lights firing up to 8 times within the single 2-second exposure. While it is difficult to control the outcome, we will teach you how to "spread" the different "bodies" over the frame, with your camera movement and timing.
Our performers, professional modern dancers, combine amazing feats of physical prowess with grace and illusionary effortlessness! They will endlessly repeat their difficult movements, to give you many opportunities to capture them at their peak.
This is a complex workshop, but we will take the time to train you before the shoot – starting with an extensive demonstration and explanation of the lighting setup, and the camera movement technique. You will shoot as a group, where everyone will capture the strobe exposures, at the same time. This will be a very intense practice, with only short breaks, to become proficient in this new skill of stroboscopic lighting with flash. At the end of the shoot, we will review the experience, discuss appropriate post-processing, and answer your questions.
 
We will meet at the Diavolo Dance studio on Saturday evening May 16th at 5PM and work until 11PM. We will provide all the necessary lighting equipment, as well as snacks and drinks – just bring your camera, a short telephoto lens or zoom, formatted memory cards, and extra charged batteries. While not necessary, a small/light tripod would make your work easier.


*A week after the class, you will be required to send us your best shots for feedback, a class webpage, as well as to reward the dancers.
To learn more about the history of stroboscopic photography, look up Eadward Muybridge, Harold Edgerton and Gjon Mili.
Location:
 Diavolo Studio
616 Moulton Avenue
Los Angeles CA 90031
Street parking is free and plentiful.
Instructor Bio:
George is an ex-East-Coast-based advertising photographer, with over 30 years' experience of providing services to Corporate and Editorial clients. Projects have included providing photography for annual reports, advertising and marketing materials, and magazine features shot on locations around the world. A life-long advocate for photographers' rights, he has served on both the national and the LA board of directors of the American Photographic Artists and currently leads the Los Angeles Digital Imaging Group. George is also a photography educator who has taught at UCLA Extension (2007 Instructor of the Year), Samy's Camera, and one-on-one. Every summer George leads travel photography workshops in Bali, Indonesia. In August 2011 George was recognized as one of the 13 Best Workshop Instructors, nationwide, by PDN Magazine, the Bible of the commercial photography industry. In July 2018 Digital Photo Pro Magazine profiled him and his specialized lighting of dancers and acrobats, in a feature article that can be read here (https://www.digitalphotopro.com/profiles/the-art-of-movement)
By registering for this workshop, you are agreeing to our Terms and Conditions.  Click here to view our Terms and Conditions.