Join Chris Crosby for an unforgettable photographic experience chasing light and capturing the early spring night sky at Joshua Tree.
Overview
This is a 2 day immersive astrophotography experience in Joshua Tree National Park. During this workshop, Chris Crosby will guide you through Joshua Tree National Park while helping you to translate emotion and vision through our photographic medium. Chris is dedicated to providing the best instruction on all aspects of the art of landscape photography and night photography. Whether you are just beginning or are a seasoned pro, Chris is ready to help you move forward with your photography. Together we will create an unforgettable photographic experience this spring by chasing light and capturing the early spring night sky.
Your satisfaction, enjoyment and educational experience is important to Chris. The goal of this workshop is to allow you to further understand your camera, composition and artistic expression while using the amazing landscapes of Joshua Tree National Park. Chris wants to ensure that everyone comes away with great instruction as well as a great experience in nature. Most importantly, we are going to have fun! Having fun is a critical part of any good photography adventure. When you have fun, your mind is free to expand and learn.
This workshop is limited to only 6 attendees in order to maximize individual attention and instruction.
Itinerary & Tentative Schedule
Since this is a field workshop, we will remain flexible to weather and light conditions to ensure we are able to shoot during the most ideal conditions. We will meet at park entrance areas and drive together as a group.
Friday, April 21st
5:00 PM Meet by Park Entrance (Meet and Greet)
5:15 PM Depart for Sunset Shoot
7:45 PM Depart back to Dinner and Rest For Astro Session
Saturday, April 22nd
12:00 AM Meet for Astrophotography Session
5:00 AM Move to Sunrise Location (if necessary)
7:00 AM Return To Hotel for Meals and Rest
5:00 PM Meet for Sunset Shoot 7:45 PM Depart back to Dinner and Rest For Astro Session
Sunday, April 23rd
12:00 AM Meet for Astrophotography Session
5:00 AM Move to Sunrise Location (if necessary)
7:00 AM Workshop Concludes for rest and check out of hotels.
Post Processing Session
There will be a three hour online post processing session on April 30th from 1pm-4pm on the Zoom platform included with this workshop. Instruction is given in both Adobe Lightroom and Photoshop. Topics of post processing will vary upon your skill level. Common topics including:
Lightroom and Photoshop Workflows
Maximizing your RAW captures
Keys to clean editing
Stacking for depth of field and noise
Use of Luminosity Masks
Blending methods
Finishing an Image
and much more…
Curriculum
Curriculum will be catered to each individual's skill level and may vary from student to student. Some advanced topics include:
Exposure bracketing and blending
Focus stacking for depth of field and sharpness
Creative blending to bring the vision to life
Composing for interest, depth and focus
Time Blends for Night Sky
Physical RequirementsSince this is an infield workshop, some walking will be involved. Most locations are not far from parking areas. Students need to be ready to be able to walk and in some cases climb onto small rocks to be in the best position for certain compositions.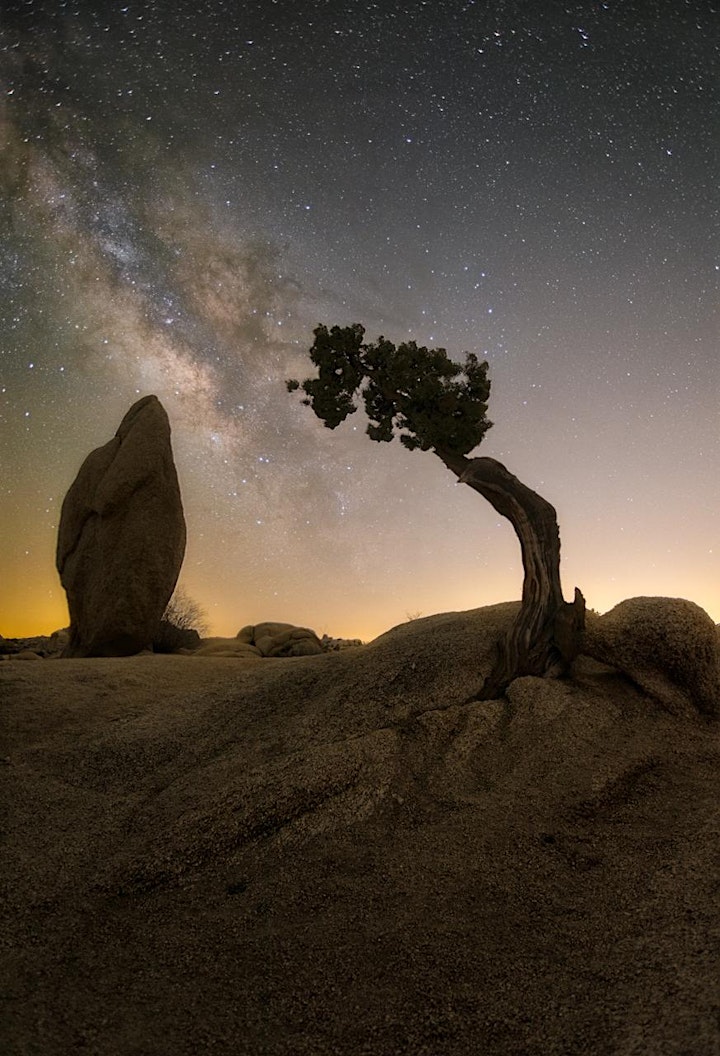 THINGS TO BRING
Equipment:
DSLR / Mirrorless camera and lenses
Wide Angle Lens – 12-24mm (Faster lenses are better for night photography, but not essential)
Mid to Long Range Zoom – 24-70, 70-200, 100-400 are great ranges to capture intimate scenes
Tripod (Sturdy for wind situations)
All filters you might have, a Circular Polarizer is a great tool
Remote / cable camera shutter
Several memory cards
Spare camera batteries
Head torch (for any night or low light walking and shooting)
Raincover for camera and camera bag can come in handy in some rare cases of rain or high wind!
Small Camping Chair or Stool for comfort
Clothing Items:
Many layers – plan for warm days and mild nights
Gloves, Warm Hat, warm socks (If there's a cold spell)
Sunglasses, Large Brim hat, and Sunscreen are recommended for the daytime
Hiking ShoesBoots are recommended
Food:
Food, Water, and all other essentials. No Food or water will be provided before, during or after the workshop. Plan ahead and have plenty of water available as it is very dry and can warm quickly on clear days.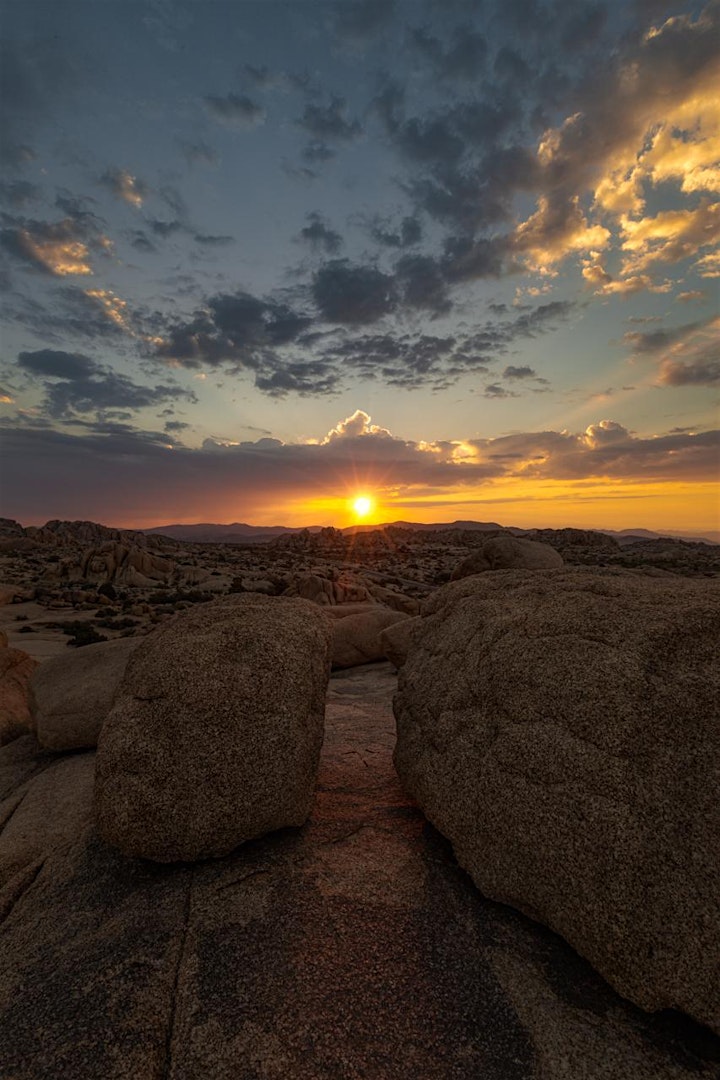 GENERAL INFORMATION
Transportation
No Transportation will be provided to, from or during the workshop. All attendees are responsible for arranging their own transportation. Any car will be sufficient for our outings, but a vehicle with higher clearance may allow you more ease on some roads throughout the park should you wish to explore on your own.
Park Fees
Entrance into the national park is not included in the fee for the workshop. All attendees of the workshop are required to pay the National Park Entrance fees upon entry to the park. Further instruction will be provided to students prior to their visit. Currently, Joshua Tree Entrance Fee per vehicle is $30.00 for a 7 day period.
Airports
• The nearest airport is in Palm Springs, California
• Los Angeles is about 140 Miles to the West
• San Diego is about 170 Miles to the South
Accommodation
Hotels:There is no lodging available within Joshua Tree National Park. However, there are many places to stay in nearby communities. Chris recommends staying in 29 Palms or just outside of the park towards the town of Joshua Tree. You will find lots of accommodations in both of those areas including hotels and AirBnB.
Camping:Camping is very popular in Joshua Tree and campgrounds sell out quickly. There are nine campgrounds in the park and a number of options for camping outside of the park.
Restaurants, Grocery Stores, & Picnic Areas:There are no restaurants or grocery stores inside Joshua Tree National Park, but nearby communities provide these services.
Remember: help us keep wildlife wild. Never feed wild animals. Store food in hard-sided containers or in your vehicle. Carefully clean up all trash and leftovers, even small crumbs.
INCLUDED IN WORKSHOP FEE
Expert instruction in the field with Chris Ewen Crosby
Guidance to key compositional attributes throughout the park
3 Hours of Post-Processing Instruction after the workshop
NOT INCLUDED IN WORKSHOP FEE
Transportation
Lodging
Meals
Park entrance fees
Travel and cancellation insurance
In accordance with state and local public health organizations, Samy's Photo School is following all COVID-19 related protocols. Please do not attend this class if you are experiencing any symptoms related to COVID-19 or if you have recently tested positive for COVID-19.
By registering for this workshop, you agree to our Terms and Conditions. Click here to view our Terms and Conditions. You will be required to sign a waiver prior to the hands-on portion of this workshop. Refunds request must be made in writing at least 30 days prior to the event.
Instructor Bio: Chris Ewen Crosby is a photographer based in Long Beach, CA. Born and raised in Seal Beach, CA, he developed a love for the ocean and outdoors during his childhood. Chris was very active in sports and outdoor activities that took him from the California's oceans, through the mountains and to the deserts. It was these formative years that sculpted his love of the beauty of the earth. He also inherited a love for teaching from his mother, It is a desire to teach, love for the outdoors, and a love for photography which shaped where Chris currently resides in his life.