Advanced Adobe Lightroom Classic with Natasha Calzatti – 3 Sessions Live Via Zoom on February 19, 20 and 21, 2021 from 10am-1pm each day.
This is a live class that takes place via Zoom. It is limited to only 10 students to ensure individual attention.
Have you been using Lightroom Classic but feel like you are not getting the most out of it? Natasha Calzatti will show you all the tricks of the trade: How to customize your workflow to fit your specific needs. Learn powerful new features such as Luminance and color Range Masking, automatically fill uneven edges in panoramas, and 32 bit HDR. Explore your options for adjusting localized areas within your images and skin retouching. Automating settings, and export to Photoshop which will help you work more efficiently. Once your images are organized and adjusted, extend Lightroom with creating books or slideshows and learn to print and synchronize collections with your smart phone or tablet.
This workshop will cover:
• Using Lightroom for Selective Adjustments: Spotting tool, selective brush (masking), radial filter, graduated filters;
• Advanced Healing Brush: Make your images spotless with a single brush stroke Remove simple unwanted objects and flaws—just disappear;
• Matching Exposure on Multiple Photos;
• Make Precise Selections with Luminance Range Masking;
• Make Precise Selections with Color Range Masking;
• Editing Photos in Reference View;
• Automatically fill uneven edges in panoramas;
• Create custom color grading presets;
• HDR Merge 32bit, Batch Merge for HDR and panoramas;
• Creating Books utilizing the layout tools;
• Creating Slideshow;
• Using Lightroom with Photoshop (photoshop is not required for this class);
• Intro to Lightroom mobile sync smart phone or tablet;
• Export Presets – For batch allow multiple exports at the same time;
• Print module: Demo.
Technical Level: Intermediate to Advanced
• Make sure to have Lightroom Classic installed on your computer: Photography plan (20GB)
• https://www.adobe.com/creativecloud/photography/compare-plans.html
• We encourage you to install and test the Zoom software on your device prior to the class. If you are unfamiliar with Zoom please look over this link: https://support.zoom.us/hc/en-us/articles/201362033-Getting-Started-on-Windows-and-Mac
Additional information for this class will be emailed to the attendees 48 hours prior to the start date. Please read the instructions included in the email. If you have additional questions please contact the school at edu@samys.com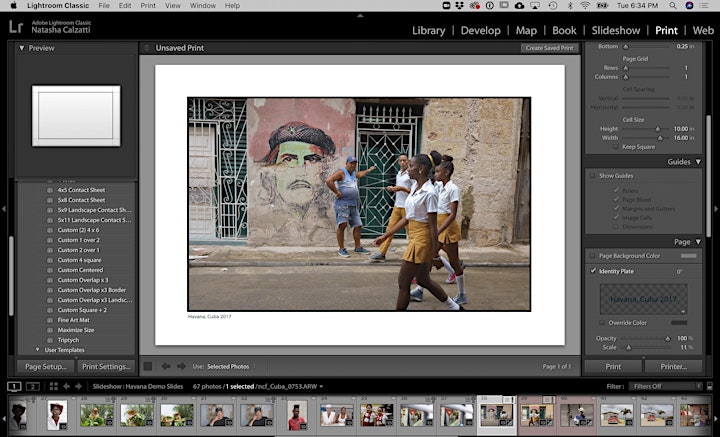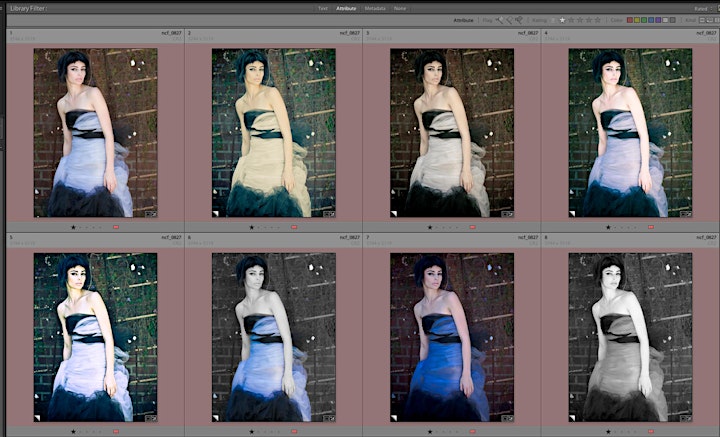 Instructor Bio:
Natasha Calzatti is a photographer, educator and a consultant based in Los Angeles. She has shot award-winning work for THE NEW YORK TIMES, NEWSWEEK, PEOPLE and VIBE, and has been syndicated internationally.
Presently, she was a speaker at AdobeMax conference, she is an adjunct professor at Santa Monica College teaching both Photoshop and Lightroom, instructor at Samy's Photo School and has been a guest lecturer at the International School of Film and TV (EICTV) Cuba and Brooks Institute. Natasha has been featured in DIGITAL PHOTO PRO magazine and invited to The Getty Center to share her behind the camera experiences of Cuba as she presented an in-gallery exploration of A Revolutionary Project: Cuba from Walker Evans to Now. Natasha divides her time between shooting assignments and lecturing on digital imaging both in the U.S and abroad. You can see her current work at www.calzattifoto.com.